Inn
The dining room
Built in the style of the mill of 1840 it extends, the dining room is fully glazed and overlooks the Besorgues. In good weather, you can be served on the terrace in a natural environment.
Our site is wonderfully ready for family meals, banquets, seminars, group meals, associative meals as for your breaks.
We are striving to serve you a cuisine using mainly local produce, healthy, natural from Ardèche's high Cevenne.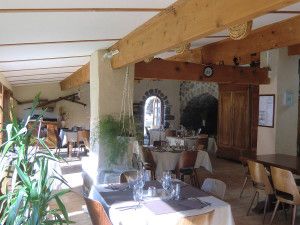 You will enjoy in room or terrace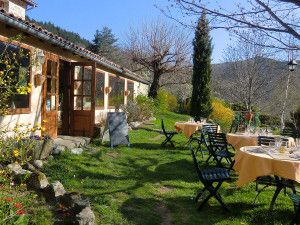 The chestnut in all its forms, cream, jam, liqueur or ice
Ice creams and sorbets of the Ardèche (Terre Adélice)
The Castagnou, our local aperitif
The local charcuterie
The mineral water
Last but not least the Labastide goat cheese to taste, fresh, creamy or dry
Whether you are traveling in the country or native, take a dip in Charrier's Mill enjoying one of our ice creams with local flavors.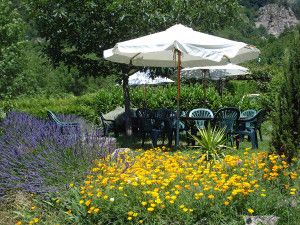 Opening of the Inn
Open from 27 April to 30 September 2018.
Breakfast on request
Served on the terrace
Hot beverage (coffee, tea, chocolate)
Local Fruit Juice
Local Honey
Homemade jams
Organic and local yogurt
Organic bread, cooked over a wood fire, from La Petite Boulange à Bise
Lunchtime and dinner
Menus from 11 € (dish of the day) to 17 € (dish of the day, cheese and dessert)
Menu of the little gastronome: dish of the day: 7 €, dish of the day+ dessert: 10 €
Pizzas cooked over a wood fire "rocket stove", Friday and Saturday evenings from 7pm, from 8 €
Inn booking
For a pre-booking thank you to fill out the form you will find on the contact page.